04, 24, 2013

Category

deck building
Posted By Sam
Comments Off

on High-End Deck Building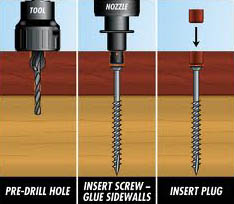 High-End Deck Building Demands the Strength of Face Fastening for Reliable, Long-Term Results. The technique of using wood plugs to hide screw heads has been around for hundreds of years.
There are two basic reasons for its continuing popularity. The first of which is practical — they cover and protect the heads of screws. The second reason is that they create a high finish aesthetic, which is indicative of serious craftsmanship and attention to detail.
For fastening the Ipe (pronounced ee-pay) and similar deck boards, Simcoe Carpentry selects the SMART-BIT® PRO PLUG® System due to its ability to install perfect and consistent wood plugs in half the time of other plugging methods. Designed by Starborn Industries to combine the proven strength of face screwing with the aesthetics of hidden fasteners, the system includes the PRO PLUG Tool for Wood and PRO-PLUG Plug & Fastener Kits, making it the ideal solution for perfectly installing plugs in deck designs with more than 20 species of wood used in both decking and flooring applications.
Time is money and while most customers love the finished look of plugged holes, they're reluctant to pay for the added time and energy it takes to do it correctly, explains Sam. With the Pro Plug System, it only takes about 20 seconds to drill and plug each hole, which in the end can greatly reduce the overall time to plug an entire deck. It is also incredibly easy to use since it includes everything you need.
The process begins with the Pro Plug Tool, which pre-drills and counter-bores the Ipe deck boards. Next is the installation of the stainless steel fasteners, which are included in the plug and fastener kits. Once the screw is installed, the Pro Plug Glue Nozzle (also included in the plug and fastener kits) is used to coat the sides of the hole. Finally, Sam's crew inserts the plug and then sands and seals the deck surface to provide "an even, finished look that doesn't reveal screw heads."
"The only people that enjoy the results of the SMART-BIT PRO PLUG System for Wood more than me are the customers," says Sam. "The system provides beautiful aesthetics in less than half the time it takes to do plugging the traditional way, which means I can also charge less for the same great finish. Plus, face-down screwing is the only way to go for long-term strength and durability. This is an ideal system for combining high-end professional looks with the integrity that every exterior structure in this area requires."
Please visit www.starbornindustries.com/pro-plug for more information on the SMART-BIT® PRO PLUG® System for Wood or contact Starborn Industries at 800-596-7747.
About the Company
Starborn Industries, Inc. is a leading manufacturer and distributor of fasteners and related products for the building industry. Founded in 1961, Starborn is a premium supplier of fasteners in the deck building, construction and woodworking fields. Starborn products include the Headcote®, Smart-Bit®, Pro Plug®, Cap-Tor® and Deckfast® brands. These products are distributed throughout the US, as well as internationally through distributors and dealers servicing Europe, Asia, Africa, North America, South America, the Caribbean, Australia and New Zealand.
More information on Starborn's complete line of deck fastening products is available online: Headcote® Stainless Steel Screws with Color Coated Heads (www.starbornindustries.com/headcote), Smart-Bit® Pre-drilling and Countersinking Tool (www.starbornindustries.com/smart-bit), Smart-Bit® Pro Plug® System for Wood (www.starbornindustries.com/pro-plug), and Cap-Tor® Screws for Capstock and Composite Decking (www.starbornindustries.com/cap-tor). For online purchases, users can also visit www.mcfeelys.com, www.manasquanfasteners.com or www.decksdirect.com.