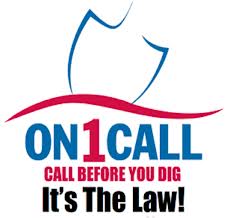 Call Before You Dig!
You should always call before you dig your deck foundations, if there is any chance something could be buried. Typically with deck building projects being in the rear of a home, there usually won't be any issues with buried utilities, but you never know for sure.
Safety Starts with You!
Before you dig, think about what services might be buried in the ground, because…
What you can't see can hurt you!
It's getting pretty crowded underground. There could be gas pipelines, electrical services, telephone and cable TV as well as water and sewer connections. In addition to these types of buried services to your home, there could be distribution networks for utilities that serve your neighborhood and community. In some cases, such as pipelines and fiber optic cables, they may even be part of a national feeder route.
Damaging underground services can have serious consequences:
Personal injury Loss of essential services, creating a safety risk for others. Expensive restoration costs and potential legal actions.
Don't take the risk. Get a free locate with Ontario One Call 1-800-400-2255 
For your convenience, the Centre is open 24 hours a day to receive your requests. Requests can be submitted via their online form or by phone.
On June 14, 2012 The Ontario Legislature passed Bill 8, the Ontario Underground Infrastructure Notification System Act. This Act will enable any excavator to call one number to receive all required underground locates at no extra cost.
Effective January 14th, 2013, please contact Ontario One Call at 1-800-400-2255 or log on to the Ontario One Call website http://www.on1call.com/ to locate any requests in our service territories.
Excavators
Thank you for taking the first step in damage prevention!
Ontario One Call provides a free service to excavators to make locate requests in the Province of Ontario. At Ontario One Call, our goal is to reduce damages to underground facilities and promote safe excavation practices through the operation of a state-of-the-art One Call Centre. For your convenience, the Centre is open 24 hours a day to receive your requests. Requests can be submitted through our online form, phone or fax. Emergency and short-notice (less than five days) requests may only be placed via phone.
TransCanada:
The Right-of-Way
TransCanada approvals are required for heavy equipment crossing, construction, and excavation activities on or near our right-of-way (RoW) in accordance with your province or state. The RoW is a strip of land usually between 15 metres (50 feet) to 60 metres (200 feet) wide, and containing one or more pipelines. The RoW enables TransCanada to gain access to its facilities for inspection, maintenance, and testing purposes.
Before You Dig
Whatever the project, keep everyone safe by calling your local One Call Centre at least three days in advance to learn the exact location of pipelines and other underground utility installations on your property.  You will avoid costly repairs and interruption of vital services that can occur as a result of a line strike.
Before You Cross
TransCanada approvals are required for crossing over our RoW, to reduce the risk of pipeline damage and protect the public and the environment.
Companies, utilities, and landowners require approval from TransCanada to cross our facilities or conduct work within our pipeline RoW.  If there is any planned work on your property, contact a TransCanada representative for a Crossing Agreement at least two weeks before crossing.
In Canada, please call your local One Call Centre for all crossing enquiries; alternatively, you may send your request via e-mail to [email protected].
In the US, please contact 811 for all crossing enquiries or contact TransCanada via e-mail at [email protected].
Before You Build
In Canada, for all development enquires within 200 metres of the pipeline or 750 metres of compressor stations, please contact TransCanada's agent Lehman & Associates at 1.866.602.0663.  This includes, but is not limited to, permanent buildings and accessory structures such as pools, sheds, parking lots, decks, greenhouses, garages, and fences.
In the US, call 811 three business days prior to any ground disturbances or excavation.  A TransCanada Representative will meet with you to discuss your plans and attend any ground disturbance activities near or within our pipeline right-of-way.
Location of our pipelines
We use a variety of markers and signs along the RoW to clearly mark the general location of our pipelines.  Markers are typically placed at any intersection or in heavily congested areas. However, pipeline markers should not be relied on for the exact location, path, or depth.
Our pipelines are buried underground at varying depths and the exact depth of cover can only be accurately determined by a TransCanada representative.  For this reason, certain activities such as erecting structures and planting trees within the RoW are restricted until authorized by TransCanada.
Please call your local One Call Centre and, TransCanada will send a representative to your proposed excavation site to mark buried utilities at no cost to you.