Deck Builder Barrie
Decks and fences add additional living space, beautify your yard and add value to your home in Barrie.Before you go shopping for the deck builder materials for your deck or fence, there are four things that need to be considered: price, aesthetic, lifestyle and maintenance.

Deck Builder Materials – Barrie
Pressure-Treated Wood
The majority of decks built in Canada are constructed from pressure-treated wood because it's typically the most affordable option. Unfortunately, pressure treating wood doesn't make it completely resistant to moisture, which means that you'll have to apply a water repellent to your deck on an annual basis in order to protect against moisture damage.
Pressure treatment is a process that forces chemical preservatives into the wood. Wood is placed inside a closed cylinder, then vacuum and pressure are applied to force the preservatives into the wood. The preservatives help protect the wood from attack by termites, other insects, and fungal decay.
ProGuard Preserved Wood products are designed for outdoor construction. They contain the NatureWood preservative system, which uses copper as the main active ingredient. Copper, a naturally occurring mineral, is an effective and widely used fungicide. In NatureWood, it is coupled with a quaternary compound (or "quat") for enhanced performance against copper-tolerant fungi and termites.
Maintenance
Decks made of pressure-treated wood can last up to 40 years. To maintain your deck, wash it annually with a detergent to remove dirt, moss, algae and mould. A pressure washer is also a fast and easy way to clean your deck. Once your deck has completely dried, apply a clear sealant. This will help to prevent against splintering and discolouration caused by moisture.
Western Red Cedar
Cedar possesses an oil preservative that makes it naturally resistant to decay and insect damage. Its beautiful grain, texture and colour make it an easy choice for one of the most aesthetically pleasing deck and fence materials. It's lighter than pressure-treated wood, which makes it easier to maneuver and work with, but typically more expensive as well.
Maintenance
To maintain your cedar deck, wash it annually with a mild detergent and water. Never use a pressure washer on your cedar deck. Although cedar is durable, it's still a softwood and can be damaged by a pressure washer.
Composite Decking
Composite decking is made from a combination of natural wood fibres and durable resin. Designed to resemble real wood, composite decking and fencing requires no painting or staining and won't splinter, crack, warp or rot.
Veranda composite decking features realistic wood-grain patterns and is available in a large selection of colours. Backed by a 25-year limited warranty, you can have peace of mind knowing your investment in a composite deck is protected season after season.
Maintenance
Periodic washing with soap and water is necessary to remove surface dirt and chalk that accumulate on the surface. This will also prevent the build-up of pollen and debris that can cause mold and mildew growth. Pressure washers should be used for wetting and rinsing only and not to "blast off" soiling agents; attempting to do so can drive the dirt deeper into the material. Test on an inconspicuous area before washing the entire deck.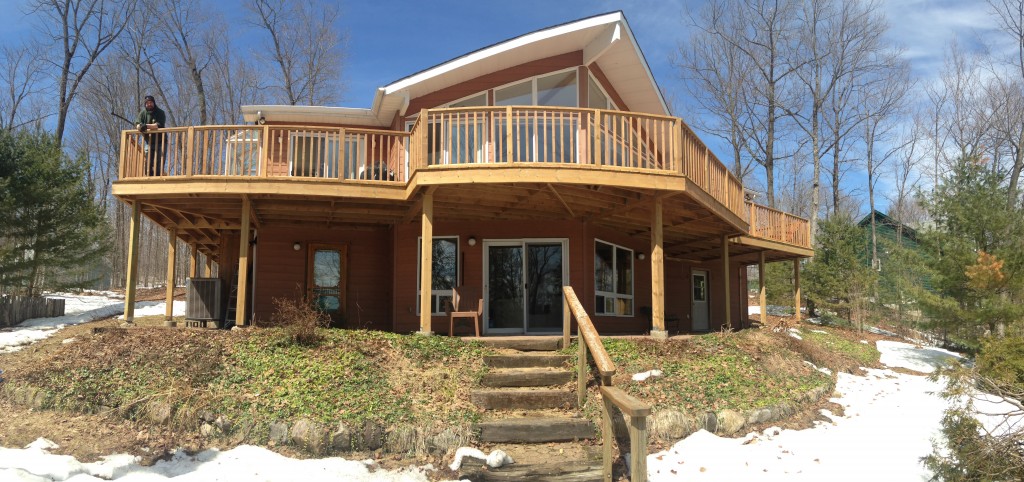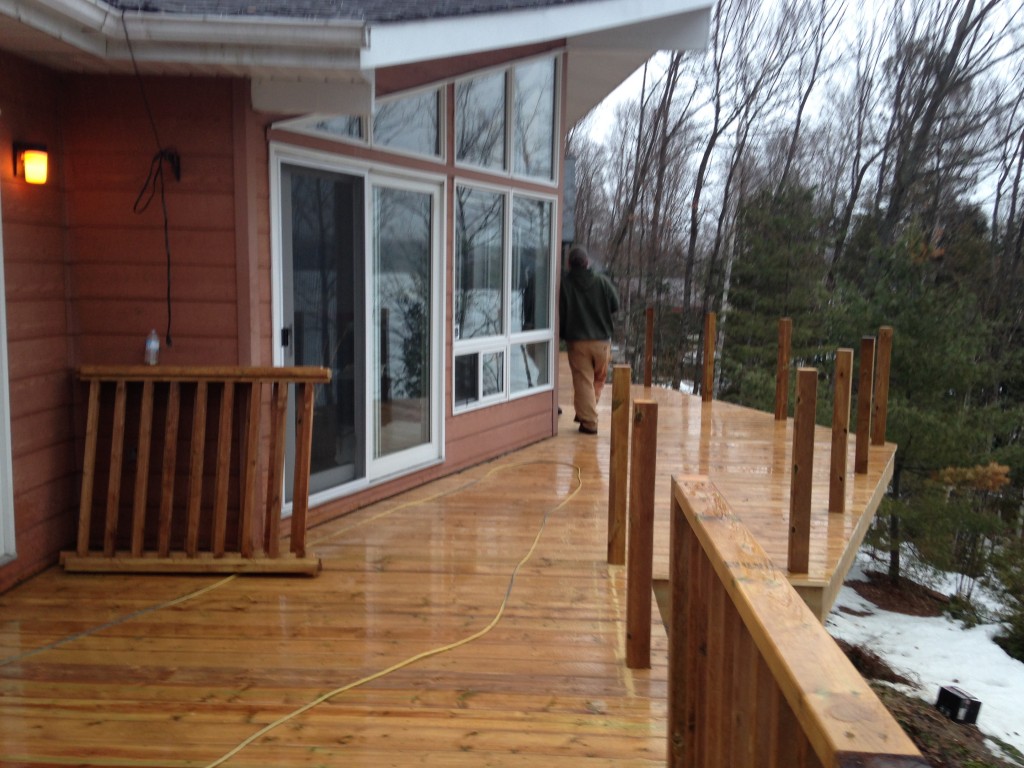 Building a Deck or Porch in Barrie – Deck Builder Barrie
A deck is an uncovered platform, freestanding or attached to a dwelling.

A porch is a covered entrance to a dwelling that is either enclosed or unenclosed.

Decks and porches require building permits unless they are less than 10m2 (107ft2) in size and not attached to the building or located at an entrance.

Residential properties are subject to 45 per cent maximum lot coverage. Lot coverage is the percentage of the total lot area covered by all of the buildings, including porches and decks. Decks less than 1.75 (5.9ft.) above grade shall be exempted from lot coverage restrictions.

Decks and porches cannot be constructed on easements. However, you may be able to have the easement released. Contact the Legal and Real Estate Services Branch for more information.
Zoning Standards For Decks And Porches in The City of Barrie
Location
Minimum Distance from Lot Line
Front Yard
3m (9.8ft.)
Interior Side Yard
0.60m (2ft.)
Exterior Side Yard (Corner Lots)
1.5m (4.9ft.)
Rear Yard
0.60m (2ft.) Deck
5m (16.4ft) Porch
A building permit is required in Barrie for a deck that is attached or adjacent to a building having a walking surface of greater than 24″ above adjacent grade. Other decks, not described above, that have a walking surface greater than 24″ above adjacent grade and area greater that 10 square metres (approximately 108 square feet) also require a building permit.
Regardless of whether or not a building permit is required for your deck, you should contact the Barrie zoning examiner for your area to determine whether or not your proposed deck will meet the zoning requirements for your property, mainly the setback to lot lines in The City of Barrie.
Who to Contact:
Barrie's Building Services Department
City Of Barrie
70 Collier Street
P.O. Box 400
Barrie, ON L4M 4T5
Phone: (705) 739-4212
Fax: (705) 739-4240
[email protected]
Simcoe Carpentry is your deck builder in Barrie – Deck Building Contractor
Some deck builder information relation to the Ontario Building Code as it relates to deck building and construction. Please check the current OBC details.
General
The Ontario Building Code Act requires a permit to be issued prior to starting construction, if the deck is attached to the house or adjacent to an exit door regardless of size or attachment or the deck exceeds 10m2 (108ft2).
Deck Builder Permit Applications generally require
1. Two copies of a survey/site plan showing: a. Lot lines including dimensions. b. Location of proposed deck dimensioned to all other buildings and lot lines. c. Municipal address.
2. Two copies of the deck construction drawings. The drawings must have sufficient detail so that someone, following the drawings, could build the deck. The following should be provided: a. Foundation Plan detailing: i. Footing size and location. ii. Size, span, and direction, of beams, floor joist and decking. iii. Dimensions of all components. b. Elevations to show: i. The general appearance of the deck. c. Cross Section detailing: i. Footing depth and construction. ii. Height of deck walking surface above grade. iii. Height of guard above walking surface. iv. Step details. v. Deck construction. vi. Guard construction. vii. Details, such as deck to house connection
3. Copies of manufacturer's installation instructions for proprietary products and materials if applicable.
4. Payment of a permit fee.
Deck Builder Qualifications
The owner of a house is allowed to prepare and take responsibility for the design of a deck attached to a house without having to be qualified under the Ontario Building Code. However, the owner must still prepare plans and specifications in sufficient detail to demonstrate the project will comply with all technical requirements of the Ontario Building Code. Any persons other than the owner who prepare plans and specifications and take responsibility for the design of an attached deck or a detached deck (for a house) greater than 50m2 (538ft2 ) must possess the required technical qualifications prescribed under the Ontario Building Code but need not be a registered designer (for which they would have required liability insurance).
Guards
If the deck is more than 600mm (23 5/8 in) off the ground, a minimum 900mm (35 in) high guard must be placed around the deck. If the deck exceeds 1800mm (5ft 11 in) above the ground, a 1070mm (42 in) high guard must be installed. All openings in the guards must not exceed 100mm (4 in). If a bench is incorporated into the guard the required guard height is measured above the bench surface.
Stairs
Every exterior stair with more than 3 risers is required to have a handrail on one side. If there are more than 6 risers and the difference in elevation exceeds 600mm (24 in) a guard is required. Every flight of stairs shall have uniform rise and run with a maximum tolerance of 6mm (1/4 in).
Deck Builder Blocks
Deck blocks can only be used where: 1. The deck is not attached to the house 2. The deck is less than 55m2 (592 ft2), and 3. The distance from the finished ground to the under side of the floor joists is not more than 600mm (23 5/8 in) at any point.
Wood Columns
1. The minimum size of wood columns shall not be less than 140 mm X 140mm (6"X6") unless calculations are provided from a qualified person that a lesser size is adequate, and 2. Columns greater than 600mm (23 5/8 in) in length shall be laterally supported by cross-bracing or other suitable means.
Proprietary Products and Materials
Not all products or materials sold are approved for use in Ontario. PVC or composite decking and guard systems must have a Building Materials Evaluation Commission (BMEC) authorization to be used in Ontario. Steel, aluminium and glass railing systems must be designed in accordance with structural requirements of Part 4 (Division B) of the Ontario Building Code (OBC). All applications proposing the use of materials or system not specifically allowed for under Part 9 (Division B) of the OBC, must submit the applicable manufacture's installation manual and engineering data and/or BMEC approval with the application.
Required Deck Builder Inspections for Residential Decks
At key stages of building construction, work must be inspected to ensure that construction complies with the Ontario Building Code. The permit plans and specifications must be on site and made available to the Building Official at the time of inspection. To ensure the availability of a Building Official, you should book inspections 48 hours in advance. Failure to have the appropriate inspection performed may result in your having to uncover and expose the work for inspection, Orders issued, etc.
Required Inspections
1. Excavation/Footing – piers and pads prior to backfill, the inspector will confirm that the foundation system is constructed as per the Ontario Building Code and approved plans. If deck blocks are used no inspection is required until the framing stage.
2. Framing – Required at completion of structural framing and guards or prior to installation of decking if the distance from the finished ground to the under side of the floor joists is less than 760mm (30 in) at any point.
3. Final – Required at completion of the deck framing, stairs and guards. Any proposed changes from the approved plans must be discussed with a Plan Examiner or Building Inspector prior to construction.
Most Common Deck Builder Inspection Deficiencies
• Notching of railing posts.
• Use of improper, split or undersized pickets in guards.
• Splicing of beams not over supports.
• Use of unauthorized material or systems.
• Unauthorized changes from permit drawings.
City of Barrie Zoning Requirements
Residential properties are subject to a 45% maximum lot coverage. Lot coverage is the percentage of the total lot area covered by all of the buildings, including decks. Decks less than 1.8m (5.9ft.) above grade are exempted from lot coverage restrictions. Decks cannot be constructed on easements. However, you may be able to have the easement released. For further information on the release of an easement please contact the Legal and Real Estate Services Branch of the City of Barrie Clerk's Office at 726-4204.
Barrie is a city in Central Ontario, Canada, on the western shore of Lake Simcoe. Although located in Simcoe County, the city is politically independent. Barrie is within the northern part of the Greater Golden Horseshoe, a densely populated and industrialized region of Ontario.
In 2011 census, the city's population was originally reported as 135,711, making it the 34th largest in Canada. The city's 2011 population was subsequently revised to 136,063. The Barrie census metropolitan area (CMA) had a population of 187,013 residents, making it the 21st largest CMA in Canada.
Call Now Button