This year we are offering our customers a new option for their deck foundations – Helical screw piles by GoliathTech Ontario. Simcoe Carpentry has teamed up with Paul Barbour of GoliathTech Ontario to offer this product as a cost effective, and time efficient alternative, to regular poured concrete foundations. Paul, the owner of GoliathTech Ontario, is actually a personal friend of mine and I look forward to working with him this season.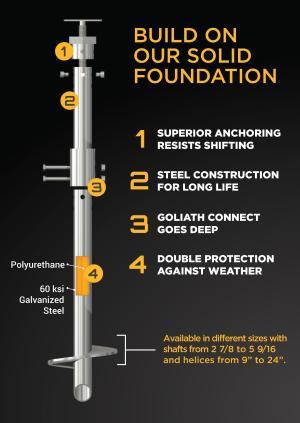 Screw piles
Screw piles are not actually new, and have a variety of applications as an alternative to traditional concrete piers and foundations. GoliathTech' Ontario's screw piles come in the same various sizes you would find in traditional piers, and are sized to the deck specifications.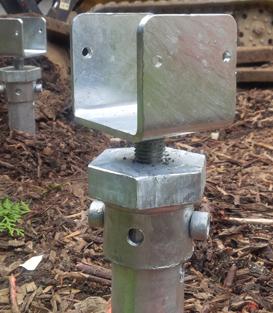 Not only do these GoliathTech screw piles come in various sizes, they are extendable so that they can be drilled much deeper when required – something that is not easily done with conventional piers. These screw pile tubes are also filled with polyurethane to prevent them from filling with water and possibly freezing.
Fencing
GoliathTech screw piles can be used for metal type fencing and are actually more stable than a cemented in post. They can also be used for temporary fencing around construction projects as the screw piles can be easily removed once construction is completed.
House Lifting and Underpinning
Helical screw pile by GoliathTech Ontario can also be used to lift or support homes while the foundation is being worked on. In the photo below you can see a temporary screw pile being used to raise and support this home while it is being worked on.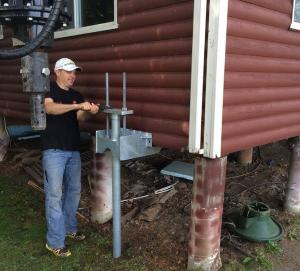 Benefits
Whether you are using GoliathTech's screw piles for a fence, deck or supporting a house, the number one benefit is time savings. No more drilling holes, pouring cement and waiting for building department inspections. Screw piles are already spec'd out and engineered. Just screw them in and you are ready to start building. Screw piles also make a great foundation for a house, addition, porch, bunkie or shed.

For more information on this amazing product please contact:
GoliathTech Ontario
Paul Barbour
705-294-8800
info@goliathtechontario.com
www.goliathtechontario.com
https://www.facebook.com/goliathtechontario/timeline
GoliathTech Ontario Helical Screw Piles FAQ's
What Are Helical Screw Piles?
GoliathTech Helical Screw Piles is an earth anchor constructed of helical-shaped circular steel blades that are welded to a steel shaft. The blades are constructed as a helix with a carefully controlled pitch. Goliath Tech Helical Screw Piles are made of galvanized steel piping called a "Strut" with low resistance to corrosion in most cases. These "Struts" can be used for drilling foundations with varying diameter from 1 1/17" " to 3 1/2" and go deep into the ground, beneath the ground freezing level, to solidly support the structure of your project. . When the product is installed in a soil where the conditions are corrosive to steel, adequate protection to the exposed steel must be provided. The Helical Screw Pile steel pipe shaft ends with a sharp 45 degree point. Just above the slanted point is a Helical circular blade to allow for drilling and slicing through many types of soil, and has two or more formed helical plates welded to the outside of the steel pipe. These steel piles are used as an alternative to poured concrete foundations or cement blocks when either supporting an existing foundation or building a new foundation.
Advantages of Helical Screw Pile Foundation Installation?
The GoliathTech Helical Screw Piles method to support new or reinforce existing foundations have many advantages over other ways to support building structures, such as form tubes and concrete foundations.
No damage to landscape or structures
Perfectly levelled structure
No delays between the end of the installation and the beginning of works
Ideal for restricted even narrow spaces
Possible no matter the season
Removable and reusable system
Are GoliathTech Helical Screw Piles Safe?
GoliathTech Piles Ontario takes safety very seriously, whether on or off the job site. According to the Canadian Foundation Engineering Manual and the Deep Foundations Institute , screw piles are recognized as a safe and effective choice for foundation installation.
What Kind Of Training Is Required To Install GoliathTech Helical Screw Piles?
Every person who operates equipment for "GoliathTech Ontario" Helical Screw Pile installation has been trained and "Certified" for full and complete product installation meeting Goliath Tech Piles strictest training policies. Careful detail for safety as well as quality is of the utmost importance to GoliathTech Piles, and high standards of workmanship is critical in our expectation of our staff.
What Weather Condition Prevent Installation On Time?
GoliathTech Helical Screw Piles can be installed under most weather conditions, unless the following is present: soft mud to unstable to support our bobcat; torrential rain causing unsafe working conditions; blizzards or severe snow storms; or other unnatural weather conditions. If installing in weather where the ground is frozen solid, installation can be done but special considerations will be applied.
Why Would I Chose GoliathTech Helical Screw Piles over Other Foundation Options?
There are many good and valid reasons for using this new technology when installing a foundation. One of the most popular reasons to use Goliath Tech Helical Screw Piles is that the job usually only takes a few hours and once completed other construction workers can continue immediately with their jobs. Another attractive reason is there are no noisy cement trucks or waiting for cement trucks, or waiting for your cement to cure. Nor are there any noisy pile drivers and no tailings to dispose of. Add to that our exclusively built Goliath Tech products that are superior in quality and performance it only makes sense to chose GoliathTech Ontario for your foundation needs.
How Deep Can GoliathTech Helical Screw Piles Be Installed?
The depth of the Helical Screw Piles depends on the structural foundation the are used for. When necessary these Helical Screw Piles can extend 50′ into the ground, but many uses only require 7' to secure the project.
Can GoliathTech Helical Screw Piles Be Installed On Any Terrain?
GoliathTech Helical Screw Piles can be installed in almost any soil or ground type without any problems or extra attention. If however the ground is seriously solid rock, then using these screw piles may not be able to penetrate through the rocky surface and below. Under some circumstances a specialized air drill/hammer may be required to complete a job of this nature
Information below was provided by Wikipedia and is not necessarily applicable to GoliathTech Ontario helical screw piles.
Screw Piles
Sometimes referred to as screw piles and also called Helical piles, are a steel screw-in piling and ground anchoring system used for building deep foundations. Screw piles are manufactured using varying sizes of tubular hollow sections for the pile or anchors shaft.
The pile shaft transfers a structure's load into the pile. Helical steel plates are welded to the pile shaft in accordance with the intended ground conditions. Helices can be press-formed to a specified pitch or simply consist of flat plates welded at a specified pitch to the pile's shaft. The number of helices, their diameters and position on the pile shaft as well as steel plate thickness are all determined by a combination of:
The combined structure design load requirement
The geotechnical parameters
Environmental corrosion parameters
The minimum design life of the structure being supported or restrained.
Screwpile steel shaft sections are subjected to design parameters and building codes standards for the region of manufacture.
Installation
Screw piles are wound into the ground much like a screw into wood. Screw piles are installed using various earthmoving equipment fitted with rotary hydraulic attachments. Machinery varies from skid-steer loaders to 5 tonne through 80 tonne excavators. Rotary hydraulic powerheads with torque capacities ranging from 5,000Nm to 500,000Nm are custom fitted using various boom configurations. Special drive attachments connect the screwpile to the machine. Correct installation techniques are paramount to meet engineered design load and settlement outcomes. Incorrect techniques are likely to result in poor overall pile performance.
Development
Screw piles can be referred to as screw piles, steel screw-in foundations, screw piers, helical piles, helical anchors, screw anchors, screw foundations and helical piers. Screw piles were first described by the Irish civil engineer Alexander Mitchell in a paper in Civil Engineers and Architects Journal in 1848 – however, helical piles had been used for almost a decade by this point.[2] Screw foundations first appeared in the 1800s as pile foundations for lighthouses, and were extensively used for piers in harbours. Between the 1850s through 1890s, more than 100 screw-pile lighthouses were erected on the east coast of the United States using screw piles. Made originally from cast or wrought iron, they had limited bearing and tension capacities. Modern screwpile load capacities are in excess of 2000 kN, (approx. 200 tonne). Large load capacity screw piles may have various componentry such as flat half helices, Bisalloy cutting tips and helices, cap plates or re-bar interfaces for connection to various concrete or steel structures.
More recently, composite technology has been developed and patented for use in small screw piles. Composites offer significant advantages over steel in small screwpile manufacture and installed performance.
Screwpile design is based on standard structural and geotechnical principles. Screwpile designers typically use their own design software which has been developed through field testing of differing compression pile and tension anchor configurations in various soil profiles. Corrosion is addressed based on extended field trials, combined with worldwide databases on steel in ground corrosion
Modern Use and Benefits
Screwpile foundations are still used extensively, and their usage has extended from lighthouses to rail, telecommunications, roads, and numerous other industries where fast installation is required, or building work takes place close to existing structures.
Most industries use screwpile foundations due to the cost efficiencies and – increasingly – the reduced environmental impact. 'Screwing' the foundations in the ground means that there is less soil displacement so excess soil does not need to be transported from the site, saving on transportation costs and reducing the carbon footprint of the project.
The main benefits of screwpile foundations include: shorter project times, ease of installation, ease of access, reduction of the carbon footprint, ease of removal when the foundations are no longer required, reduced risk to the workforce, and reduced costs.
They are also suitable for both tensile and compression loads, so they are also used for masts, signs, and retaining structures.
History of helical Screw Piles
Exerpt from http://helicalfoundations.org/history-of-screw-piles/
Alexander Mitchell and the origin of screw-pile foundations
Most historians agree that screw-pile foundations were introduced as a practical foundation system by Alexander Mitchell (1780–1868), an Irish builder and brick manufacturer. Cox provides an excellent biography of Mitchell and gives us some insight into the man and his work.
Mitchell was born in Dublin on 13 April 1780, the eighth son of a family of thirteen. His father, William Mitchell, was Inspector General of Military Barracks in Ireland. In 1787 the family moved to a house on to outskirts of Belfast but when William died in 1790 the family moved again to a
cottage about a mile outside the city.
Mitchell's only formal schooling appears to have been about four years spent at the Belfast Academy but his sight, which seemed to be weak from an early age, perhaps as a result of the contraction of smallpox, continued to decline. Before he was 16 his sight was so bad that he could not see to read and by the age of 21 he was totally blind. At the age of 20, using £100 borrowed from his brother George, he began business as a brick manufacturer in an area just east of Ballymacarrett. His brickmaking business, which lasted over thirty years, was sufficiently successful that he was able to expand his business into the building of houses and other property development. In 1801 he married Mary Banks, the daughter of a neighbour, and together they had two sons and three daughters.
His business generally prospered as a result both of royalties obtained from screw piles and screw-moorings and also of contract work, for example in the construction of lighthouses both in the UK and the USA where screw-piles were used as the foundations.
His success enabled the family to move around 1839 to a substantial house at 2 Alfred Street on the corner with Little May Street in Belfast, at the time a high-class residential area.Even though he had no formal training in engineering, he apparently described himself as a civil engineer at various times and was elected to Associate Membership of the Institution of Civil Engineers in 1837, very early in the development of his screw-pile foundations. At the time of his election Thomas Telford was president of the ICE.
International Society for Helical Foundations
Advancing Technology of Screw-Piles and Helical Anchors
The idea to form the ISHF was conceived by in the spring of 2009 by Dr. Alan Lutenegger, Professor of Civil & Environmental Engineering at the University of Massachusetts to provide an international forum for professionals engaged in the design, construction and development of helical foundation/anchor technology to share information and ideas. The ISHF is not for commercial advance of any Individual, Manufacturer, Supplier, Contractor or Organization. The Executive Director of the ISHF is Dr. Alan Lutenegger. The mission of the ISHF is to be the international professional forum for promoting all aspects of Screw-Piles/Helical Foundations/Anchors related to Civil Engineering. It will act as the non commercial and impartial group to collect and disseminate technical information to the industry.