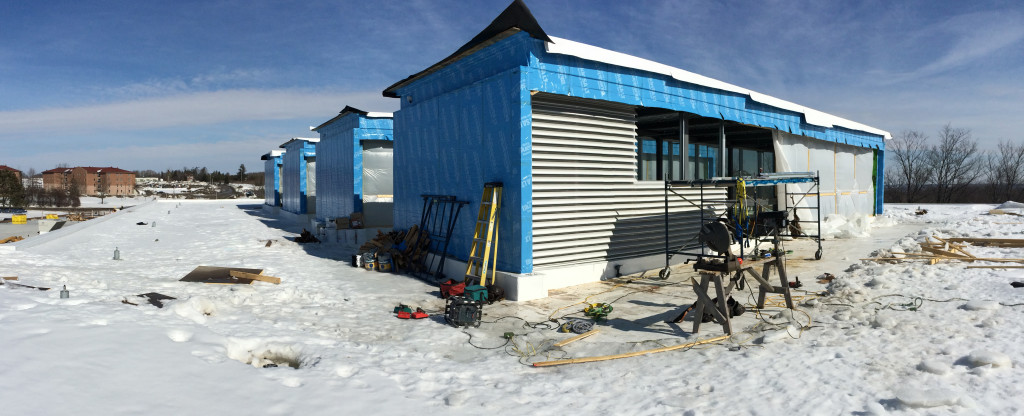 It's not very often we are asked to work on a project that doesn't involve wood, but this week it happened. The job involved installing Extruded Aluminum louvres on part of an addition to Sir Sandford Fleming College, 599 Brealey Dr, Peterborough.
The contract for installing these louvres and all the glass and doors in the addition was given to Barrie Metro Glass located in Barrie, Ontario. Rob Reith of Reith Custom Building called us in to give them a hand with the installation as they were already busy with local projects.
In the photo above left you can see the steel studs being installed that hold the louvres in place – left to right is Andy Schrank (aka Andogg), Rob Reith, and Sam Alcamo. Andogg is actually about fifty feet in the air on a platform lift – maybe that`s why he isn't smiling for the camera. The photo on the right is looking into the shop area below the lift.
The extruded aluminum installation involved four louvres that are approximately ten feet high and fifty feet long. They had to be installed on the sides of four raised areas on the roof of the college. These raised areas had full glass down one side and the louvres on the other side. This allows for both light and ventilation without opening windows.
The addition at Fleming College's Sunderland campus will be called the Kawartha Trades and Technology Centre. It is scheduled to open later in 2014 and will house Fleming's trades and technology programs.